In light of the Government of Ontario declaration that houses of worship are now able to re-open, for the time being, Aurora United Church Worship services, committees and groups will continue online.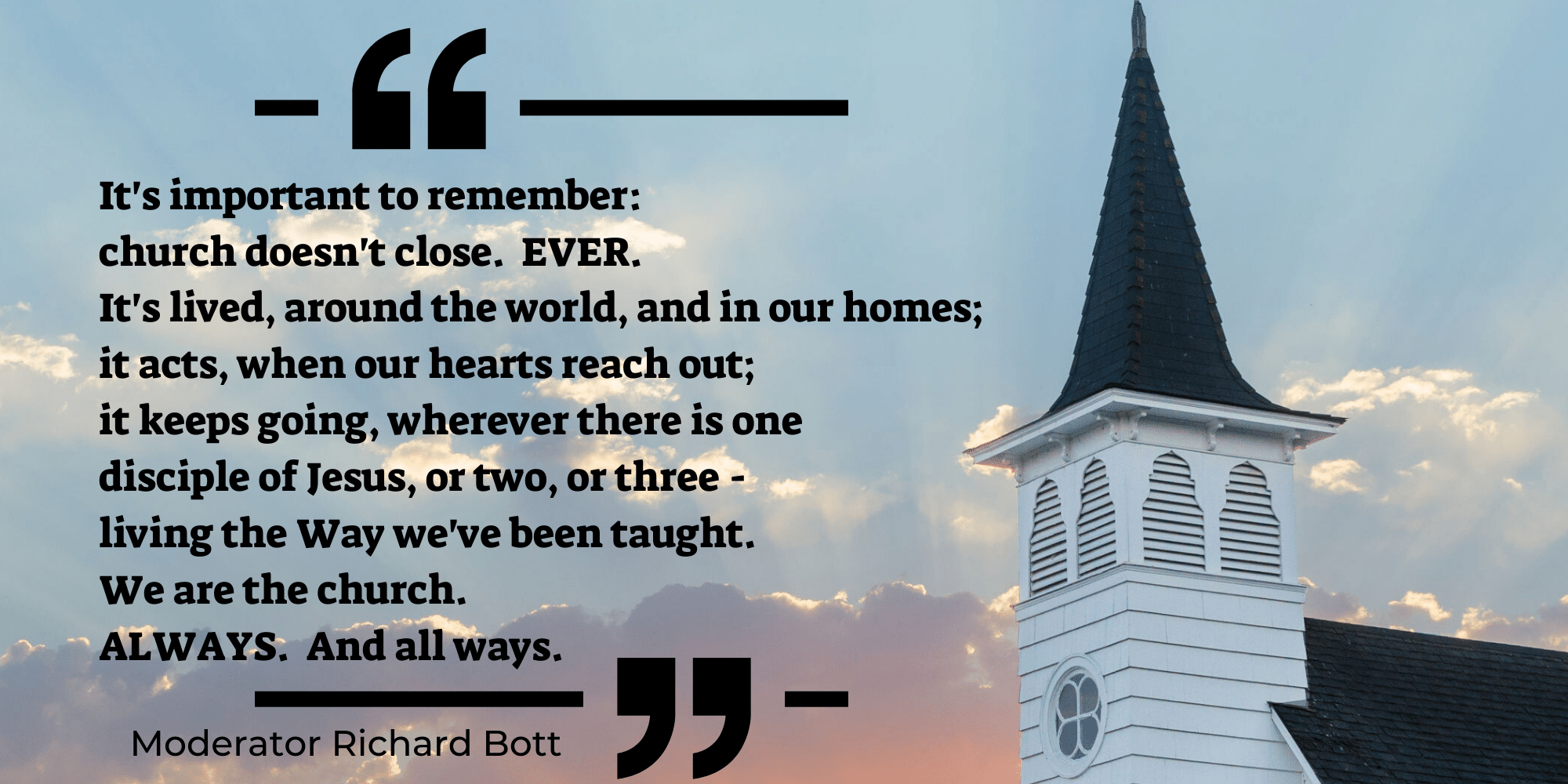 "I do not want one single case of COVID-19 traced to one of our churches because we did not care for those whom Jesus loves."
Bishop Karen P. Oliveto of the United Methodist Church
All AUC in person meetings and programming has been suspended until further notice. We continue to monitor the situation, and we pray that actions taken now will alleviate or prevent suffering amongst our communities.
A Pastoral letter from Rev. Andy Comar, Rev. Lorraine Newton-Comar
and Bill Newman, Chair of AUC Council, March 2020
Aurora United Church Council:
Congregation Update: June 2020
Announcement from Bill Newman, Chair, AUC Council
Dear AUC Friends,
The Covid-19 emergency is unprecedented and is forcing us to look at how we operate as a church and to take extraordinary measures to ensure our viability. We see a combination of reduced work loads for some of our lay staff as well as a need for financial belt-tightening. Therefore, Aurora United Church Council been forced to make the difficult but necessary decision to temporarily lay off three of our lay staff.
Shining Waters Regional Council:
SWRC Statement on Anti-Black Violence and Racism
Racism is an ongoing sin existing within our communities. It is with both lament and anger that we respond to the recent killing of George Floyd at the hands of law enforcement officers, as well as additional examples of anti-Black violence emerging across North America. The deaths of Ahmaud Arbery, Breonna Taylor and Regis Korchinski-Paquet further highlight the injustices encountered by Black civilians every single day.
From: Members of the Social and Ecological Justice Commission (SWRC)
In a commission meeting on May 27th, 2020, the Social & Ecological Justice Commission was asked to consider endorsing two calls to action in response to what has been learned about the situations in Long Term Care Facilities in Ontario. Both the Interfaith Social Assistance Reform Coalition (ISARC) and the Ontario Health Coalition have written to the Premier and Cabinet Ministers requesting an independent Public Inquiry or Commission.
RESOURCES for ANTI-RACISIM - Shining Waters Regional Council (Specifically Influenced by the Black Lives Matter Protests)

This past week we have been asked a lot about ways to engage young people in the conversation around anti-racism. Jeffrey Dale has visited several different websites, spoken with authors, and educators to compile a list of books and resources that to help you and your community of faith exploring the conversation of Anti-Racism, and engaging with Black Lives Matter.
Shining Waters: Reopening Church Buildings: A Letter to Premier Doug Ford
On May 11th, 2020, a letter endorsed by 250 congregations from across Ontario was sent to Premier Doug Ford, requesting the government lift restrictions on gatherings in church buildings — despite the recommendations of health officials that in-person worship continue to be suspended.
Shining Waters Regional Council: Statement On The Wet'suwet'en Crisis
In late February, Shining Waters Regional Council prepared the following statement on the Wet'suwet'en crisis. Although its release has been delayed by regional responses to the COVID-19 pandemic, the statement has been sent to the offices of the Prime Minister and the Minister of Crown-Indigenous Relations and Northern Affairs.
Current News from Shining Waters Regional Council
Wellspring Blog: From Dirt to Delicious
Lessons from Ministry in the Midst of a Disaster by Matthew Crebbin – Disaster Relief, lessons from a minister who attended the community after Sandy Hook. 18.03.20
Offering Support in Anxious Times Pandemic Practicums By Rev. Diane Strickland. Diane is a Certified Community and Workplace Traumatologist & Critical Incident Responder and in this article offers advice to church leaders as they continue to serve their communities during COVID-19. 18.03.20
Pandemic Practicums #1 Everyone's Response is Unique by Diane Strickland. She has launched a YouTube channel, Things That Matter, to help us respond to the situation.
Pastoral Care for Grieving Families A Google Doc from our partner church in the U.S. The United Church of Christ
General Council:
Note from Nora Sanders: October 30, 2020
Today is Nora Sanders' last day as General Secretary of the United Church of Canada. We wish her well in her retirement.
We are over seven months into the pandemic lockdown. This is the longest I have gone in my life without entering a church building. I suspect that this is true of many of us.

We have kept on worshipping, but in different ways. The electronic tools we have today have given us options. Worship has been possible. Community has continued… and sometimes even grown. Those of us not back in our church buildings look forward to being back, but maybe we will see our buildings in new ways too. Maybe we will broaden our view of what church looks like.
Many people are speaking these days of discovering anew, the beauty of the world outside our doors. When I am out with the dogs or on my runs, I find that the landscapes (and I am back in the landscape familiar from my childhood) let me shift away from focused thoughts and open up to a sense of deeper connection.
Note from Nora Sanders: October 9, 2020
Fall is in the air these days. In this part of southern Ontario the leaves are changing but not yet at their peak. The weather seems to shift several times a day, the winds are gusty, and the apples, squash, and pumpkins are all ready to eat. In other parts of the country the season is more advanced... I know from my friends in Nunavut that the berry picking is pretty much done because the snow has arrived.
Note from Nora Sanders: September 25, 2020
Walking the dogs early on a windy morning, I look up and see about twenty-five large birds gliding in big circles without moving their wings as they ride gracefully on the air currents. Such a beautiful sight.

On the ground, turkey vultures are far from beautiful. They are big, ungainly, almost menacing looking birds. Even less attractive when they are observed on the ground feasting on roadkill. You would never recognize them as the ones who soar so gracefully high in the air.
Note from Nora Sanders: September 11, 2020
The Wednesday morning chapel services are one of the things I have treasured in my time at the General Council Office. Different staff colleagues, or sometimes visitors from elsewhere in our church or ecumenical partners, take turns leading worship. Each week is a little bit different, and each chapel service is nourishing to the soul.

Since our office has been closed because of the COVID-19 restrictions, we have been gathering weekly by Zoom, and like the rest of the church, we have adapted to worshipping electronically. Although normally we don't have the chapel services over the summer, this year we continued straight through. It has been an important point of connection for us during this summer when we have been unable to be together in person in the office.

This week, something unexpected happened with our chapel service… at least for four of us.

Note from Nora Sanders: August 27, 2020
Each person has a unique character, a mix of both inherited traits and the environment they live in. And each generation is in some way shaped by the times that they live in.

My parents' generation was shaped by the Great Depression followed by World War II. Their parents were shaped by the First World War. My generation of Canadians (with the exception of those who experienced residential school life) may have been largely shaped by the general absence of war or other major broad-based trauma.

I wonder how the pandemic we are living in right now, will shape the children and young people of today.
Note from Nora Sanders: August 7, 2020
Just before 5:30 on Monday morning, in the pitch dark, my son and his partner headed out of our driveway with the canoe on the roof of the car and their camping gear carefully stowed. I am thinking about them now, paddling between campsites in Algonquin Park.
Note from Nora Sanders: July 24, 2020
This week's lectionary passage from Matthew offers several different examples of what the kingdom of heaven is like. The tiny seed that grows into a tree.
General Council Office Reorganization, July 2020
Responding to the changing needs of the church, while continuing toward the goal of reducing GCO expenditures, a number of positions have been eliminated at the General Council Office.
COVID-19: Global Response
People of the United Church have asked how they can support our church as we reach out to partners and the vulnerable communities they work with during this time of pandemic. Make a gift today to support those suffering around the world because of COVID-19. Your support will reach vulnerable communities in the Global South and provide them with life saving food. To learn more and support this appeal, visit COVID-19: Global Response.
Note from Nora Sanders: June 26, 2020 and see video below!
Some people have questioned the phrase, Black Lives Matter with the retort, "all lives matter." But that misses the point.
Thank You Aurora United Church for your gifts to the M&S Fund
https://vimeo.com/428897516?mc_cid=fbc36f4154&mc_eid=7b331877a5 Letter
Note from Nora Sanders: June 10, 2020
Happy anniversary to all of us in The United Church of Canada. Our church is 95 years old today! Do you wonder, like me, what those founders from 1925 would make of our church – and our world – today?
Take Action: Create a Universal Basic Income Program
Poverty can happen very quickly to anyone. Aware that some pandemic-related relief programs (such as the Canada Emergency Response Benefit, CERB) are scheduled to wind up in July, Moderator Richard Bott has written to elected officials encouraging them to seize the moment to roll out a Universal Basic Income (UBI) program in collaboration with the provinces, territories, and Indigenous leadership. Find out how you can take action at a local and federal level.
Note from Nora Sanders: May 29, 2020
"I will sing to the LORD as long as I live; I will sing praise to my God while I have being." These words from Psalm 104 may challenge us in these anxious and uncertain times. And yet, why not?
"Seize the Moment" for a Universal Basic Income in Canada
As the COVID-19 pandemic has demonstrated, "poverty can happen very quickly to anyone." Moderator Richard Bott has written to Canadian government officials to move forward with developing and implementing a Universal Basic Income (UBI) program in Canada.
Possible Postponement of General Council 44
Commissioners of the 43rd General Council will consider moving General Council 44 from 2021 to 2022 due to the COVID-19 pandemic.
Camps Find Ways to Build Community amid Physical Distancing
People who work or volunteer in outdoor ministries are sharing creative and positive ways to ensure that the overwhelming joy of camp will continue in some way despite the COVID-19 pandemic.
Political and Economic Sanctions Blocking Aid for Most Vulnerable
The United Church joined with Mennonite Central Committee Canada (MCC) and Nobel Women's Initiative in a letter to the Minister of Foreign Affairs, Francois-Philippe Champagne, urging the Canadian government to ensure that humanitarian assistance is not impeded by economic and political sanctions during this unprecedented health crisis.
Note from Nora Sanders: May 7, 2020
Early on in this time of "lockdown", the Moderator and I had a conversation (electronically of course) with representatives of community ministries from across Canada. It was a listening time for us, we were not there with any advice or announcements. It was a humbling experience.
Church Launches Global Response to COVID-19
The United Church is accepting donations to help support Mission & Service partners around the world as they work to meet the needs of these communities in the face of the COVID-19 pandemic.
Stories from our Mission & Service Partners: Keeping Morale Up during Recovery
Overnight, the normal flow of life has changed at the Jellinek Society's Recovery House in Edmonton, a Mission & Service‒supported 17-bed residence for men in the early stages of the addiction recovery process. Ed Fox, Jellinek Society's Executive Director, is more concerned about those struggling with addiction living outside the residence than those living under its roof; you can read the full story here.
From the Front Lines of COVID-19: April 17, 2020
Community ministries serve the most vulnerable people in our society and are working tirelessly as they seek to meet increased demands with fewer resources.
Note from Nora Sanders: April 17, 2020
At the first worship service of 2020 in our congregation, everyone received a piece of paper with a word on it.

My word was "praise".

It wasn't immediately clear to me what I should do with that word. Was I to be more grateful? Was I to sing more? (Not my strong suit!). Was I to to be more public about giving thanks to God?

Praise is a good word. But I wondered why it was my word.
Note from Nora Sanders: April 2, 2020
Hello from my basement room which has become my office now, site of countless Zoom meetings and email exchanges. I feel like I have adapted a lot in the past two weeks. It's odd to work so busily with colleagues that are in the same city yet never in the same building with me. Yet the changes in my working life are small compared to the amazing ways that those in pastoral ministry have responded to the need to serve communities of faith in ways that they would not have imagined a month ago.
A Message from Religious Leaders in Canada
In response to the COVID-19 pandemic, more than 80 ecumenical and interfaith leaders across Canada have come together and added their names to this message of hope, including Moderator Richard Bott. You can read more about the statement here.
Joint Statement from Ecumenical Organizations across the World
In a historic joint pastoral statement, the World Council of Churches (of which the United Church is a member) and Regional Ecumenical Organizations affirmed the urgency of standing together to protect life amidst the COVID-19 pandemic. You can read the news piece and statement here.

A Pastoral Letter from the National Indigenous Council - March 26, 2020
The National Indigenous Elders Council, appointed at the National Indigenous Spiritual Gathering in August 2019, has offered the whole church its wisdom and assurance in light of the COVID-19 pandemic.
The Elders advise us all to take care of each other, to heed medical advice, and to continue to engage in prayer and ceremony even as we are unable to come together to do so.
Closure of Church Buildings: Clarification - March 26, 2020
Closure of Church Buildings in Ontario
In Ontario, church buildings (other than some community services that may fall under the social services category) have not been named as essential, so Ontario church buildings must be closed. We interpret this as not allowing even a small number of people in the church to provide virtual worship.
Letter from General Secretay Nora Sanders - March 18, 2020
Letter from General Secretary Nora Sanders to ministry personnel and church leaders, March 16, 2020.
Photo Credit: Angela C from Pixabay
Moderator: God is with Us
Covid 19: United Church Statement