Pride 2020
Celebrating Pride in the United Church
We invite all people of faith to celebrate the lives and ministry of LGBTQIA+ and Two-Spirit people across the church and beyond.
Toronto Pride
Join the United Church Toronto Pride Gathering
Sunday, June 28, 2020, 1:00 PM
Join with other members of our region and some of our neighbours to celebrate Pride for our own pre-gathering before the Toronto Virtual Parade. The program will include music and prayers and a video about banning conversion therapy. Bring your own beverage and get ready for the parade with United Church friends. Host is Greg Daly

Link to Zoom Toronto Pride Pre-Gathering
In light of what has happened in the United States and around the world these last several weeks - Pride month takes on new meaning as we seek to do justice and walk humbly with our God.
"George Floyd's words, 'I can't breathe,' continue to ring in our ears."
Church Leaders Acknowledge the Racism in Their Midst: In response to the demonstrations across the United States and Canada in the wake of the death of George Floyd in Minneapolis, the leaders of the Evangelical Lutheran Church in Canada, the Anglican Church of Canada, and The United Church of Canada have issued a joint letter. Moderator Richard Bott calls on White members of the church "to commit ourselves to this work, for everyone's sake."

Read More
Photo: Protesters in Halifax demonstrate against police action in the death of George Floyd and others. Monday, June 1, 2020..
Photo Credit:
THE CANADIAN PRESS/Andrew Vaughan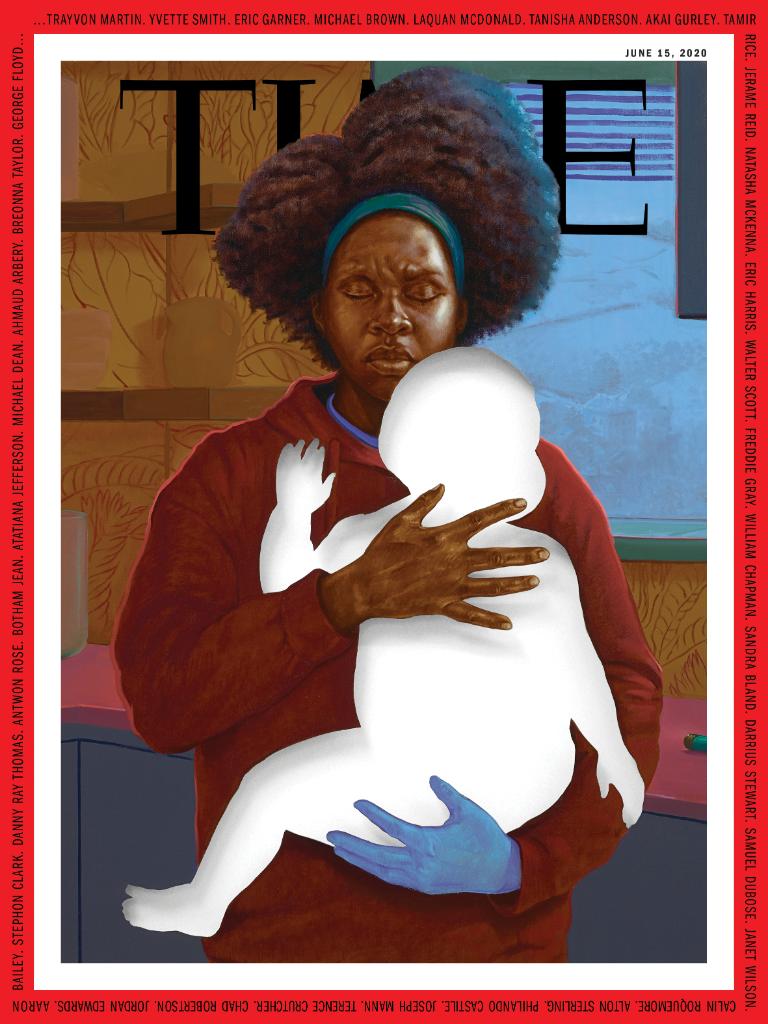 Artist Titus Kaphar talks about his painting for recent cover of Time magazine on CBC Q with Tom Power
Black Lives Matter in the United Church
The General Council Executive issued a statement on June 18, 2020, confirming unequivocally that Black Lives Matter to The United Church of Canada.
Showing Up for Racial Justice
The Characteristics Of White Supremacy Culture from Dismantling Racism: A Workbook for Social Change Groups, by Kenneth Jones and Tema Okun, ChangeWork, 2001.
United Against Racism: Online Worship Service
Black Lives Matter to the United Church of Canada
We have participated in demonstrations. Letters have been written and statements have been made. Now it is time to worship together as people of faith.
United Church Anti-Racism Resources
Dear White People
Rev. Dr. Paul Douglas Walfall has also written a new blog post that calls on White people in the church to put their love into action to counteract racism. "Confronting racism is an act of love," writes Walfall, "When you love, you treat every person with dignity, as all people are created in the image of God."
Anti-Racism Videos
Share this video if you hate racism!
A Tale of Two Kings: Reflections on MLK in the Wake of the George...
Thanks to my colleague Sara Shady for sharing this powerful response to the killing of George Floyd and the unrest that has followed in Minneapolis, St. Paul, and other cities around the country. Sara is professor of philosophy at Bethel University and co-author of From Bubble to Bridge: Educating Christians for a Multifaith World (IVP Academic)
21-Day Racial Equity Habit Building Challenge
"I am and always will be a catalyst for change." -Shirley Chisholm
Fifth Anniversary: Truth and Reconciliation Calls to Action
June 2 is the fifth anniversary of the 94 Calls to Action of the Truth and Reconciliation Commission of Canada (TRC). There is still much work to do, within the church and within Canadian society.
Open Hearts - Affirming Ministries
Recently, the AUC Council voted to explore the possibility of becoming an Affirming Congregation within the United Church of Canada. This would mean declaring ourselves to be a congregation which is committed to inclusion and justice for people of all sexual orientations and gender identities—seeking also to live more fully into God's way of welcome, love and justice for all creation.
Affirming ministries work in many different ways toward the healing and wholeness of creation, challenging bias and discrimination based on appearance, culture, class or age; working to end racism; promoting economic justice; increasing accessibility or caring for the planet. Affirming Ministries seek to go beyond issues of gender diversity and sexual orientation to work for justice and inclusion for all people.
Affirming Ministries provide information, acceptance, support, and justice-making for lesbian, gay, bisexual and transgender people and their friends and families. These ministries declare, in words and actions, that God loves and accepts people of all orientations and they call upon the rest of the church to do the same.
The United Church of Canada officially endorses the Affirming Ministry Program and encourages its Ministries to do the same.
Through a process of discernment and reflection, Affirming Ministries discover what it means for them to be inclusive and justice-seeking. They prepare a statement of faith and vision that sets out their ongoing commitment to work for justice on issues of gender diversity and sexual orientation within their congregation, the wider church, and their community and to support and participate in the Affirming Ministry Program.
Please speak to Rev. Lorraine, or call (905-727-1935 ext.23) or email lorraine@auroraunitedchurch.ca for more information. The 'Open Hearts' resource is available to read on the AUC website.
Canadian Association for Mental Health (CAMH) Gender Affirming Health Clinic!
What is the GAHC?
Provides free primary care (ex. Hormone Replacement Therapy) and counselling services to trans and gender diverse people within York Region/South Simcoe
Creates a safe and supportive space for gender diverse people to receive holistic and gender affirming care
Eligibility includes: anyone who is 16 years+ who identifies as gender diverse, trans, non-binary, and/or questioning.
No health card is required for direct services and we welcome supportive family and friends.
Where and When?
Currently the GAHC is held at two locations:

Aurora Office, 15150 Yonge Street, across from the library (Upper floor) - First Monday of the month 1:30 to 4:30pm
Vaughan Office, 8271 Keele Street- Third Tuesday of the month 3:00 to 6:00pm

Appointments can be made by calling Bev or Beccky at the Aurora office or Vivian at the Vaughan office
Appointments and additional inquiries can also be forwarded to GAHC@cmha-yr.on.ca
Self-Referrals are encouraged
Our Team
Michelle Hermans – Nurse Practitioner (GAHC/MOBYSS)
Jessica Corbett – Counsellor (GAHC/MOBYSS)
Jenny Haggart – Counsellor (GAHC/Youth Wellness)
See poster below for more information.
Egale Canada
Egale's vision is a Canada, and ultimately a world, without homophobia, biphobia, transphobia and all other forms of oppression so that every person can achieve their full potential, free from hatred and bias.
York Region Pride
Read more about York Region Pride events.
LGBT Youth line: A safe non judgemental help line for lesbian, gay bisexual, transgender, transsexual, two-spirited, queer and questioning young people. http://www.youthline.ca/
Pflag York Region
Pflag is York Region's LGBTQ2 support, resource and education network – bringing together all members of the community. We are a volunteer-led local registered charity servicing one of the fastest growing and multicultural regions nationwide.
Every day, our compassionate volunteers are contacted by frightened adolescents and by angry, fearful or confused parents and family members from all walks of life who have questions or concerns about sexual orientation or gender identity. Our dedicated volunteers are there for those in need when it seems no one else is!
Affirm Newsletter June 26, 2020
Affirm Newsletter January 2020
Affirm Newsletter December 2019
Affirm Newsletter October & November 2019
Affirm Newsletter September 2019
Affirm Update September 17, 2019
Generous Space - E-Newsletter Fall 2019
Generous Space - E-Newsletter January 2020
Affirm Newsletter February & March 2020