Welcoming Arms has revised their programs in response to COVID-19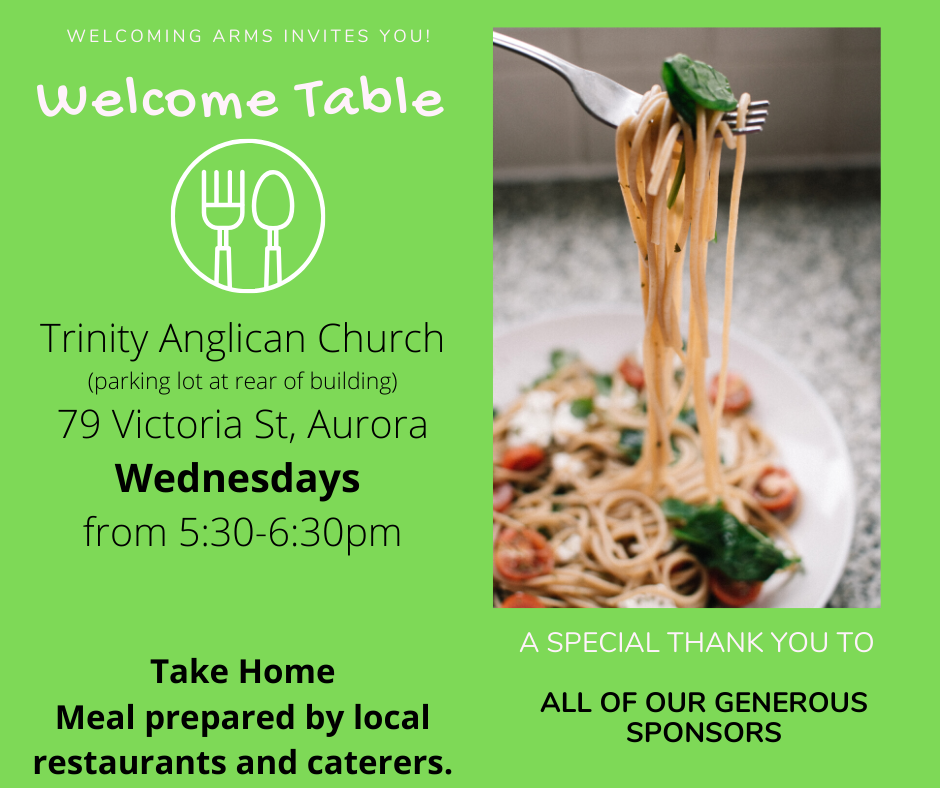 Welcome Table & Martha's Table Take-Out Meals
We are very happy to let you know that both of our meal programs are running by take-out only - Welcome Table on Wednesdays from 5:30-6:30 pm and Martha's Table from 11 am to 12 pm on Thursdays. Various restaurants and caterers will be preparing the food for us and the Rotary Club, along with other groups and individuals are going to be sponsoring the meals financially. Much care and thought has gone into making sure these meals will be safe for our guests and for the volunteers involved. The Town of Aurora will be supporting us as well, with tents, announcement on their signs etc.

Welcome Table, volunteers will be assembling and giving out the food in the parking lot of Trinity Anglican Church.
Martha's Table, volunteers will be assembling and giving out the food at St. Andrew's Presbyterian Church.
Please share this good news with your neighbours and friends!
**************************
Welcoming Arms Feeds the Community
Written by Joy Marshall
Due to COVID-19, Welcoming Arms had stopped providing meals at Welcome Table and Martha's Table in March but began again in April. This was with the help of Mayor Mrakas, the Town of Aurora, and community restaurants like Bijoy's, Catharina's Kitchen, and Food in Motion. The meals are delivered from local restaurants and bagged in the narthex. Fresh fruit, juice and a dessert are included in each bag. Cobb's Bread is available as well. Magna provided several hundred meals. They came frozen and had to be heated and packaged to give out! Brooks' Farms provides apples at cost. We have given away almost 1000 apples!! Each week we feed over 140 people (lunch and dinner weekly). Bridging the Gap is seeing folks in need in the rectory porch or by appointment. Aurora United Church has relaunched their Rise and Shine Community Breakfast on Saturday with a takeout meal as well.
Rain or shine the meal goes on. The Town of Aurora has lent us tents. Rotary Club lent us stanchions for crowd control and we are set to go. We have 2 stations to give out meals - one by the Trinity rectory for cars and the other by the main entrance of the church for foot traffic. All are kept 6 feet apart and volunteers wear masks (provided).
The guests have come back and we have received several donations from the community. One resident of the new condo behind the rectory came over to find out what we were doing. He came back with a large donation for the meal!! People want to help! And the need is real. We wish we could spend more time connecting with our guests but we do let them know we miss them. And we provide a warm take out meal.
Of note, one gentleman arrives over 90 minutes before the Wednesday meal is given out. He sits on his walker under a tree. When I told him he was a 'bit' early for the meal, he smiled and said, "All I ever see is the walls of my apartment. Here I can watch you folks set up, and have someone to talk to and something else to look at."
Our Vision.....
"A PARTNERSHIP, RELIEVING THE BURDEN OF POVERTY IN OUR COMMUNITY"
History:

Welcoming Arms started operation in October 2006. The concept originated through discussions between a number of the churches in Aurora as they looked at the needs of low income families in the town. Families and individuals were coming to the churches looking for financial assistance to help get them through the month. Typically these people were either unemployed, or on government assistance through Ontario Works or Disability programs.
The view of the church leaders was that the community could be better served if the churches' resources were pooled somehow, in this way there could be more leverage gained from the financial and human resources of the churches. From these discussions Welcoming Arms was born.
Who We Are:
Aurora United Church
Aurora Cornerstone Church
The Campus Church
The Campus Church - Bayview
Our Lady of Grace Catholic Church
St. Andrew's Presbyterian Church
Trinity Anglican Church
Sudden illness can profoundly affect a person's ability to earn a living, many who become ill are laid off, or forced to quit work because of the effects of treatment, leaving a family without food and necessities of life. 14% of seniors who live alone are living in poverty. Many of these people come to Welcoming Arms for assistance, food vouchers, YRT tickets, toiletries and a listening ear. Aurora United Church is in partnership with 5 other churches in supporting W.A., through financial assistance, volunteers, and providing toiletries each week.
How Can You Help…


Immediate need for toiletries/household supplies!
Welcoming Arms is a registered charity in Aurora, serving those in need in our community: AUC and six other Aurora churches help support WA programs, to coordinate our benevolence efforts. The "Bridging the Gap" program offers monthly access to grocery gift cards, transit tickets and toiletries/household supplies, to help visitors who are struggling to make ends meet. Please consider donating the following by dropping off at the AUC Church Office, bring them to church on Sunday morning or directly at 44 Metcalfe St, Aurora, M-F from 11am-3pm or W from 6:30-8:30pm:
*Toilet paper
*Dish soap
*Laundry detergent
*Body wash
*Shampoo
*Conditioner
*Facial tissues
*Don't have time to buy or drop off items?
Have the shopping done for you, by donating:
1) Via cash or cheque to "Welcoming Arms" – 44 Metcalfe St, Aurora, ON L4G 1E6
2) Via e-transfer to welcomingarms@live.ca
3) At www.welcomingarms.ca/donate
***If you know of someone who could use extra financial, emotional and spiritual support, please link them with Welcoming Arms atwww.welcomingarms.ca or by calling 905-726-1483
For the latest on how your donations are helping our community, follow us on Facebook and Instagram! https://www.facebook.com/welcomingarms/https://www.instagram.com/welcomingarms_/ - be sure to include the underscore "_" at the end, if searching on your mobile
Show God's love by volunteering in our community!
Welcome Table, Wednesday afternoon/evening - 1x/month, at Trinity Anglican Church, 79 Victoria St, Aurora
- Chefs and sous-chefs: enjoy finding creative ways to stretch our food budget; budget cooking and prepping delicious food (with love!); will learn alongside our terrific chefs - available Wed 1pm-6pm
-Dishwashers: strong superheroes who can lift heavy trays of plates and love being part of a fun team; on-the-job training provided - available Wed from 5-7pm
- Friends: enjoy listening and caring for people who may be struggling; welcome guests, help those with young children, deliver food plates to guests with mobility issues, keep a watchful eye to support security and hosts to maintain a safe space for all - available Wed from 5-7pm (mandatory interview, then training session on Sept 25 from 6:45-7:30pm)
- Security: supervise common areas for potential safety issues and conflicts; confident to calmly step in and bring conflicts to resolution, escort guests out if needed (training provided) - available Wed from 4:30-7:30pm
Martha's Table, Thursday morning/early afternoon - 1-4x/mo, at St Andrew's Presbyterian Church, 32 Mosley St, Aurora
- Multi-talented team members: Stay the whole time or pick a shift to help get soups reheated, make sandwiches, cut fruit, set out food; welcome and serve guests; help clean up, tear down.Shifts can be 8:30am-2:30pm; 8:30am-10:30am, 11am-1pm; 1-2pm
- SOUP-chefs: Have experience and skill in making a mouth-watering, large-quantity soup once a week. (Prep in advance and arrange to put in the church fridge or freezer, for reheating.)
Thank you again for your partnership - as we share Jesus' love and serve as his hands and feet in our community.

Collectively we can make a difference in someone's life!

Mission Statement…
"Welcoming Arms believes in the inherent dignity of all people. Reflecting Christ's love, we seek to help Aurora residents in need to experience a fuller participation in society by providing social, economic and spiritual support."
Check out the Welcoming Arms reports below!