In June, we celebrate National Indigenous History Month to recognize the history, heritage and diversity of First Nations, Inuit and Métis peoples in Canada.
Every Child Matters sign on Yonge Stree fence of AUC. Thank you to Stephen Crawly (Allegra Marketing Print Design) for this sign.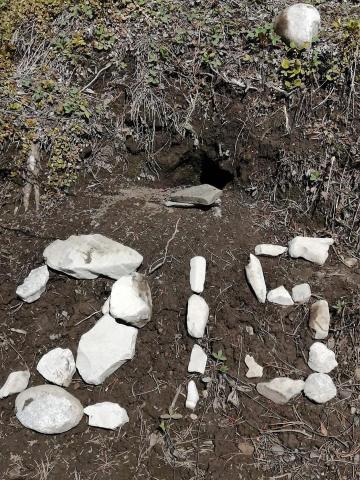 Rocks gathered to honour the 215 children found in a mass grave at Kamloops Residential School.
Tobacco was offered for each child.
Credit: Russel Burns
Published On: May 31, 2021
If you are a residential school or intergenerational survivor and this content is upsetting, please call the National Indian Residential School Crisis Line at 1-866-925-4419.
A Message to People of The United Church of Canada
from The Rt. Rev. Dr. Richard Bott, Moderator and
The Rev. Murray Pruden Executive Minister, Indigenous Ministries and Justice
Grace and Peace to you.
Since the announcement of the discovery of the undocumented and unmarked remains of 215 children on the grounds of Kamloops Residential School, we have received many messages of sorrow, concern, and outrage from members of the church.
We share these feelings.
We have also been asked many questions about the United Church's intentions regarding burial sites and missing children, about the sharing of our residential schools records, and about our response to the Calls to Action of the Truth and Reconciliation Commission.
Territory Acknowledgement
Canada is Indigenous territory. It is respectful protocol to acknowledge at the start of every gathering or meeting the particular nation(s) that had a relationship with the land you are on since time immemorial. In The United Church of Canada it has become common practice to acknowledge the land on which we gather. It is a small step toward reconciliation but it does not stop with some words. When you begin your meetings or gatherings by acknowledging the land on which you are worshiping, working, and living, you also acknowledge the presence of Indigenous people in the present as well as the past before colonization. You acknowledge connection and disrupted connection to the land and that there are things you need to do to act on your words and reconnect relationships. As one of the church parties to the Indian Residential Schools Settlement Agreement, The United Church of Canada intentionally responds to the 2015 Truth and Reconciliation Call to Action #49.